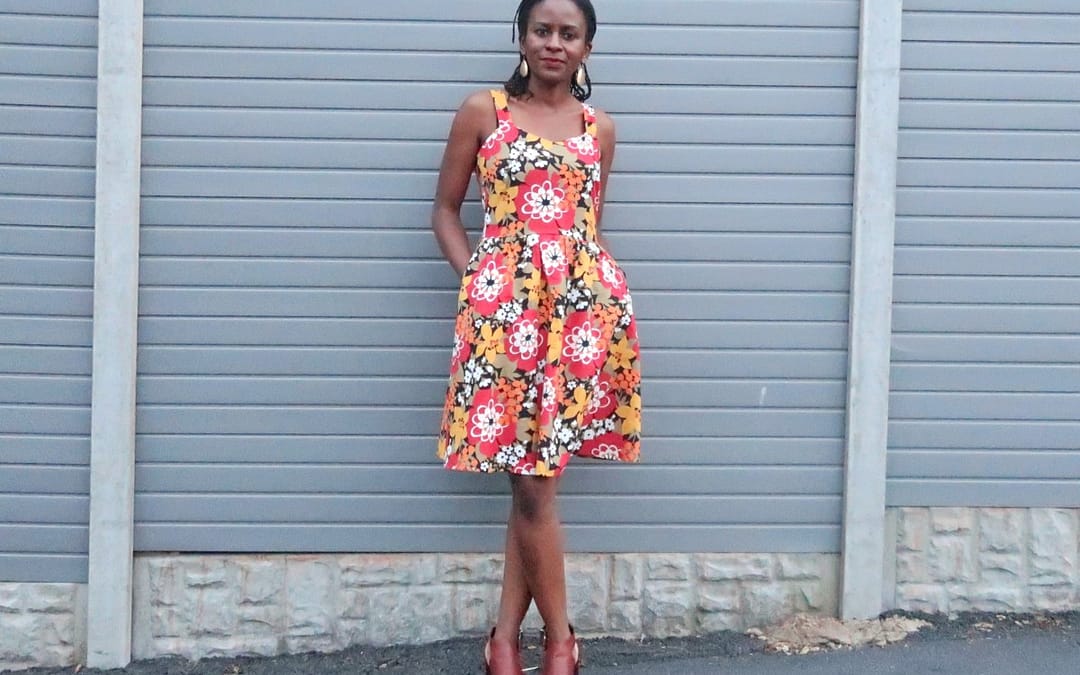 I know summer is already here, but if you are on a hunt for the perfect sundress, the Tempo Sundress by Love Notions is sure to come through for you. If you need more convincing, you might be happy to know that the Tempo comes with no closures whatsoever which is always a bonus. The back feature comes with either a shirring or elasticated panel which helps with getting the dress on. And it also has wide straps that cover the bra straps which is always appreciated.
This pattern has just been released today 14th July 2021 and it will be on sale for $9 throughout the week (until 20th July 2021).
I am both a pattern tester and an ambassador with Love Notions patterns. This means that any purchases you make using the Love Notions patterns links I share on here earn me a small commission which goes to support this website. However, this comes at no extra cost to you and you are under no obligation to use them.
Here are more of my LoveNotions pattern reviews.
Pattern Description:
Pattern features
Subtle v-neck with no gaping necklines.
Two skirt lengths; knee-length and midi with tiered subtle gathering.
No closures and comes with shirred or elasticated back panel for easy fitting.
In-seam pockets.
Works with a regular bra.
Pattern Sizing:
The Tempo Sundress comes in 9 sizes ranging from XS to 5XL and all the sizes come with full bust pieces. I sewed size XS which was a good fit without the need to blend into size S at the hips.
Were the instructions easy to follow?
The instructions are quite easy to follow, however, creating the shirring may be intimidating for someone who has never had a go at it. The pattern instructions come with a video that assists with this step.
What did you particularly like or dislike about the pattern?
I like that it is the ideal sundress but with no closures whatsoever and offers bra coverage with wider straps.
Over the past year, shirring on clothes has been popular both in the sewing community and on the high street and I could not resist it. I have fallen in love with it and If it was up to me, I would add it to every garment I sew. I thought I would share with you my tips on shirring.
Shirring Fabric Tips
Shirring or elastic thread is essential. You need to handwind it onto the bobbin to avoid stretching it.
A wider stitch length is recommended. I used 3.5 stitch length for my version which is a cotton poplin and you could do a length up for heavier fabrics.
It is advisable to draw shirring guide lines onto the right side of the fabric with a fabric pen but it is not always possible on some fabrics. So I use the sewing machine foot to set my width between the lines. I line up the previous shirring stitch line with the edge of the machine foot before starting to sew a new row.
I don't cut the threads at the end of the row, but rather continue onto the next row. In so doing, time is saved and I don't have a risk of threads unraveling.
Fabric Used:
The Tempo dress pattern is recommended for light to medium weight fabrics ranging from rayon/viscose, cotton lawn, cotton poplin, linen. I made my Tempo sundress in this gorgeous, seventies-looking cotton poplin I picked up at a discount from Pounds fabric, UK. I could not resist this print and I got it purposely for this pattern and it didn't disappoint.
Pattern alterations or any design changes you made:
I did not need to make any major alterations to this pattern apart from adding an inch to the skirt piece. I have proportionately long legs compared to my torso so this is a common alteration of mine.
Conclusion:
The Tempo sundress is a gorgeous sundress that sews up quicker than most because it comes with no closures. I would recommend it for a confident beginner and anyone who does not want to sew buttonholes. I see more Tempo dresses to come but until then stay well. Thank you for stopping by. x