I am was overjoyed when I was chosen to join the Fabrics for all blogger team. he first time I set foot into the Fabrics for all shop, located in Armley, Leeds, I was amazed by the different and beautiful range of fabrics. For any sewists out there, we know the feeling we get when we step into such a place. I chose a gorgeous cotton fabric to sew up my very first pattern from the Burda Style Magazine.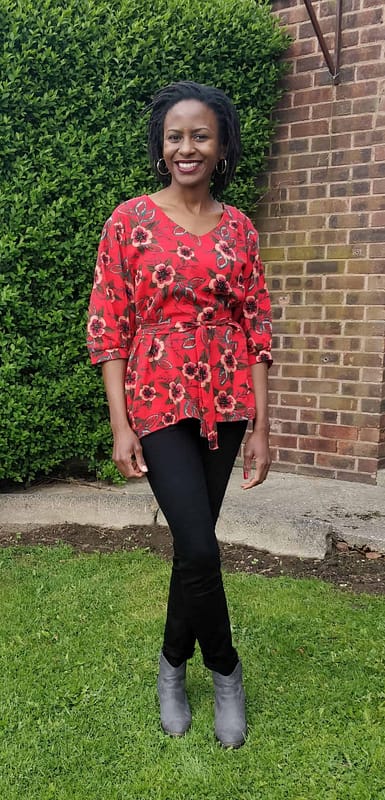 The Fabric
The fabric I chose was a 100% cotton fabric which is lightweight and perfect for the warm weather. It is bright red fabric with beautiful flowers in brown and green that caught my eye. This fabric is pretty lightweight that it could easily be mistaken for a viscose because of its feel on the skin. It is perfect for sewing lightweight blouses, tops and dresses too (but would need to be lined).
This fabric washed really well and I noticed it had a unique texture to it once it had dried before it was ironed. It took on heat pretty well too.
Price:

$19.99
Price:

$24.98
Price:

$24.98
The Pattern
I had made plans to sew up the blouse pattern 03/2019 ~103 Burda Style magazine but I was yet to find the perfect fabric. And when I did, I knew I was ready to undertake my very first sewing project from the Burda style magazine.
This pattern comes in sizes 36 to 44 and I made size 36. And it features overcut shoulders and set-in mini sleeves, a flattering V-neckline and a belt. It is a loose-fitting blouse which can be worn with either the belt or without.
The making
I will not say the making was straight forward when it came to tracing out the pattern from a maze of a pattern sheet from the magazine. It is also worth noting that the patterns from this magazine do not come with any seam allowances. I had to add the seam allowances to the traced out pattern prior to cutting out the fabric.
The sewing process was straight forward even with the less detailed instructions in the magazine. And this is due to the simple pattern I chose which did not have any closures of any kind.
The only alteration I made to the pattern was omitting the belt loops on the top and the use of a fabric-covered belt buckle. Apart from that, I sewed it up as per the instructions.
The finished project
The finished blouse looked exactly as it appears in the magazine and I was thrilled with the final outcome. I am glad I had a go at making a pattern from the magazine considering the many and fashion-forward patterns this magazine has to offer.
Thank you for stopping by.