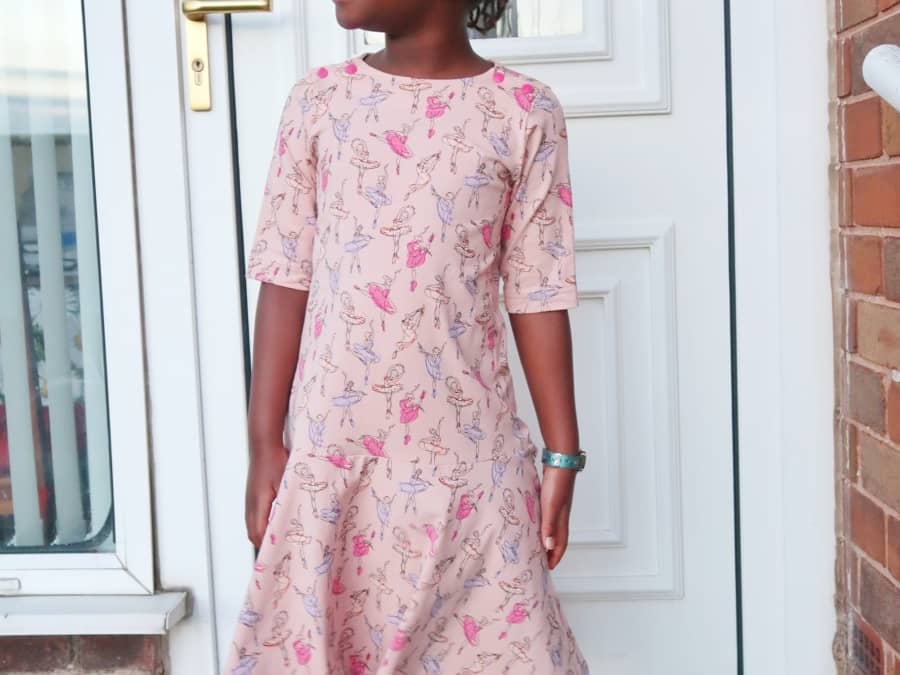 I have in the past not sewed up a single pattern more than twice because there are so many patterns to try. This changed when I first sewed up the Love Notions Prisma dress which has become my tried and tested little girls dress pattern. It offers many mix and match options while being a great scrap busting project too. It can be made up as either a casual or dressed up dress depending on the fabrics used.
Here are more of my Love Notions sewing pattern reviews
I am both a pattern tester and an ambassador with Love Notions patterns. This means that any purchases you make using the Love Notions patterns links I share on here earn me a small commission which goes to support this website. However, this comes at no extra cost to you and you are under no obligation to use them.
Prisma Dress Sewing Pattern
Pattern Features
Girls size 2T – 16
Three neckline options: scoop, Peter Pan collar and button boatneck
Three sleeve lengths: short, elbow and long
A-line, drop-waisted flare of pleated skirt
Two-pocket styles
Recommended for a confident beginner
The Fabric
This pattern is recommended for Knit fabrics such as cotton jersey, rayon jersey, Ponte, ITY, Liverpool and Scuba. However, if you are sewing the pleated skirt, a more stable knit is recommended.
The Making
I sewed up four dresses for my daughter using the Prisma Sewing Pattern and I have played around with various fabrics and features.
I sewed up size 6 for version 1 with the bodice lengthened to size 7. And I went for size 7 for the rest which I lengthened by two inches. I added an inch to both the bodice and skirt pieces.
Version 1
I went with a scoop neck and short sleeves for this version. I used cotton jersey fabric pieces which were leftover from previous projects. I did not have enough fabric for the flared skirt and I instead gathered the skirt. I used an elastic (braided) to gather the fabric which gave it more even gathers.
Version 2
This version was her Christmas day dress and I wanted to make it more festive. I went with a scoop neck, elbow-length and flared skirt options. I used stretch velvet fabric for the bodice and gold sequined fabric for the skirt. The Gold sequined fabric is a woven fabric which I lined with gold satin fabric.
I was confident to use a woven fabric for the skirt because it has a dropped waist which does not need to fit over the body. This pattern allows for woven fabrics that match the stretch bodice fabric.
Version 3
This is a flared skirt version with elbow length and a boat neck. The boatneck option comes with buttons for easy access. I opted for plastic snaps for my version which are way easier than sewing buttonholes on jersey fabric. I also used a cotton jersey fabric in a ballerina print from Minerva.
Version 4
This was made out of an animal-print cotton jersey fabric I bought from Fabrics for all. I went with a flared skirt, elbow-length and a scoop neck. This version was the fastest to make because it was basic with no complicated options.
Conclusion
I love all the versions of the Prisma dress I have made and I know there are more to come. This pattern offers very many options to work with ranging from the pattern features to prints and types of fabric you choose. I hope you will give the Prisma pattern a go.
Thank you for stopping by. xx