If you have a family member who struggles with eczema during the cold months you know what I'm talking about. My daughter's skin flares up during the colder months and I've learnt over time that I need to change not only what we eat but also the washing detergent I use in the laundry. This is because most ordinary detergents contain toxic substances which could potentially be harmful.
In the past, I have purchased a particular brand of hypoallergenic laundry detergent from Amazon. Unfortunately, it was out of stock when I needed it and the few in stock were quite pricey. I needed something more affordable because hypoallergenic detergents are often more expensive than the ordinary ones.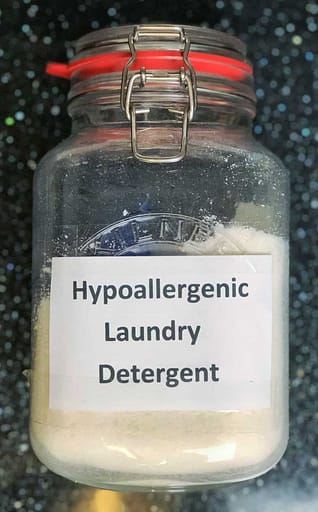 My recommendations for hypoallergenic detergents you can buy.
I researched for a DIY hypoallergenic detergent recipe and I found one which I love. I wanted one which would be gentle on the skin without compromising on performance. I narrowed down to this particular recipe which requires just three ingredients with the fourth which is optional.
Castille soap which is the purest form of soap
Washing Soda ( also known as soda crystals, sodium carbonate and soda ash) is alkaline in nature.
Bicarbonate of soda which is very similar to sodium carbonate and also alkaline in nature.
Lavender essential oil is used for the scent but it also offers disinfectant properties.
DIY Hypoallergenic Laundry Detergent
Ingredients
Instructions
Grate the soap finely using a hand grater or a food processor.
Add both the washing soda and bicarbonate of soda into the grated soap and mix well.
Add the lavender essential oil and stir well until it is all well mixed.
Transfer into a glass jar because it is safe to use with essential oils.
Add 1 to 2 tablespoons to a wash load depending on the amount and stains in the laundry.
A few other recipes I came across had borax as an additional ingredient which is meant to help brighten whites. Borax is a natural product which has been questioned if it is safe to use in hypoallergenic detergents. I decided to omit it as I was not fully convinced if it would be safe for my daughter's skin.
This detergent really washes well for everyday load, however, I find that I need to pre-soak the stained whites to get them clean.