We may earn money or products from the companies mentioned in this post.
When the Deer and Doe Sirocco jumpsuit came out early in the year, it was embraced by a number of people in the sewing community. I was not about to miss out on the opportunity considering how much I love jumpsuits. I decided to sew up this amazing jumpsuit out of a knit fabric which I was gifted to by Fabrics for all. Fabrics for all is on a family-owned fabric store located in Leeds with an online presence too. And as a member of their makers' team, I receive fabric every month in exchange for a blog post.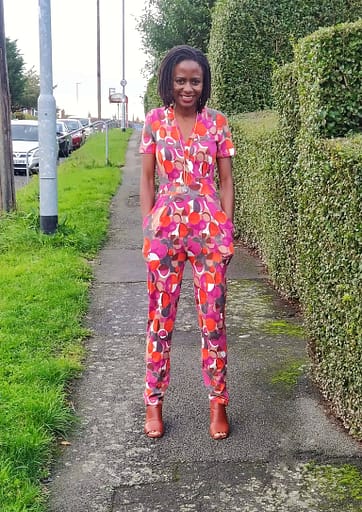 The Fabric
Jersey fabric with 60 per cent stretch is recommended for this pattern. I chose this gorgeous colourful viscose fabric for the jumpsuit. I was under the assumption that viscose jersey is a lightweight fabric. However, this particular one is medium weight and quite flowy too.
This Fabric sewed up well without any issues on both my sewing machine and overlocker. And It was such a pleasure working with it because it washed and ironed pretty well too.
Fabric recommendations for the Sirocco jumpsuit
The Pattern
The sirocco pattern is a mock-wrap jumpsuit which comes in two versions: version A a jumpsuit which features tapered legs and version B which is a romper. It comes in a number of sizes ranging from 34 to 46. And I cut out size 36 for the bodice which I blended into size 38 to both the band and trouser pieces. In hindsight, I should have cut out size 36 throughout the pieces.
The making
I sewed up the Sirocco jumpsuit using mostly my overlocker and only used my sewing machine to reinforce a few seams. I also used my coverstitch machine for the hems which sewed up really well too.
After I had put the jumpsuit together I realised that that the fit was quite big on me. And I spent a considerable amount of time adjusting almost every piece before achieving the best fit.
Alterations
Made a swayback adjustment to the back bodice piece.
Shortened the trouser legs by 3 inches considering the hem is meant to be folded over. I preferred to have mine coming up to the ankle which I found to be smarter.
Took out a considerable amount of excess fabric from almost every side seam and some from the inner leg seam too.
If for any reason you prefer watching the review instead, here is the youtube video where I review this jumpsuit.
The finished project
Despite the numerous alterations I made, it came out exactly as it appears on the pattern in the end. I love the final fit I achieved and I can say that this jumpsuit is a secret pyjama. It is not tight in any areas while keeping a good fit and look.
I will definitely be making another Sirocco jumpsuit since I have transferred all the alterations to the pattern pieces. And my recommendation to anyone planning to sew up this jumpsuit is to consider sizing down if using fabric that has more than 60% stretch.
Thank you for stopping by…