We may earn money or products from the companies mentioned in this post.
The Game Day Jersey pattern is not just for the sports fans which I am not. I made the dress version which is the ultimate weekend outfit that can be paired up with various items in your wardrobe. This pattern also comes with coordinating patterns for both Men and children. which is ideally for sewing matching jerseys for the entire family.
The Men's Game Day Jersey comes in sizes XS up to 4XL whereas the Kids' Game Day jersey in sizes 2T up to 16. All these patterns are today's feature Friday pattern on sale for $5 each (today only).
Pattern Description: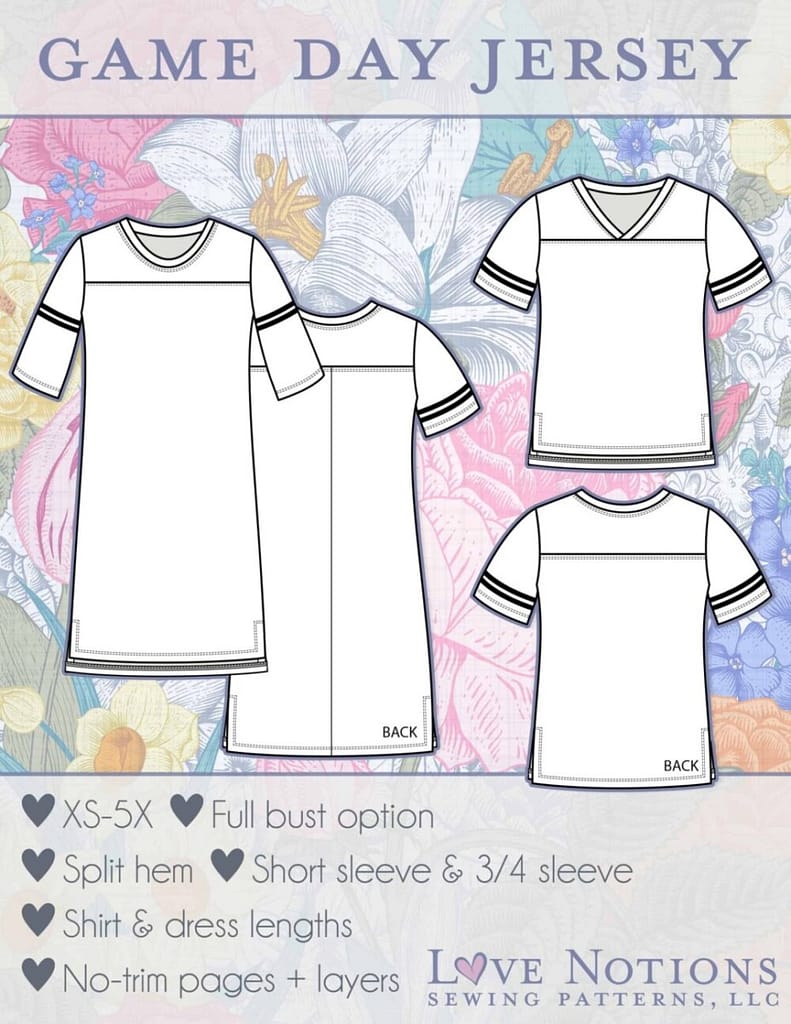 The Game Day jersey pattern for ladies comes in two lengths; a shirt and a knee-length dress. Both views feature a split hem for added detail. It also comes with two neckline options; the lapped v-neck and a scoop neckline which can be made with either short sleeves or 3/4 length sleeves.
I sewed up the dress version with a V-neck overlap and short sleeves.
Pattern Sizing: This pattern comes in sizes XS up to 5XL and all these sizes come with full bust pieces. I sewed up my version in size XS.
Were the instructions easy to follow?
The instructions were very easy to follow and this pattern is recommended for a confident beginner.
What did you particularly like or dislike about the pattern?
I like that the dress version comes with a back middle seam which allows to fit adjustment.
Fabric Used:
This pattern is recommended for light to medium weight knit fabrics such as rayon jersey, cotton jersey, French terry, modal jersey, and double brushed poly. I made my jersey dress using French terry fabric I picked up from Fabrics for All. I am happy with the effort I put into pattern matching the stripes.
Pattern alterations or any design changes you made:
I shortened the pattern by an inch.
I took the dress in at the back middle seam which allows for fit.
Styling tips:
This t-shirt dress is your go-to weekend dress. It can be worn by itself paired with a pair of sneakers or /and with a denim jacket for a casual smart look.
Conclusion:
I would sew this pattern again and probably make the shirt version. I would recommend this pattern to all sports fans out there. You would have a chance to sew up for your entire family with your favorite team colours.