We may earn money or products from the companies mentioned in this post.
I made woven fitted pants!! I would like to introduce you to the newest Love Notions pattern Glissando. I am not saying these are the very first pair of pants I have made. I have previously made a pair of culottes before (the flint pants by Meghan Nielsen) and loose-fitting viscose pants. Both of these didn't require much fitting at all. I am speaking of making high-waisted pants which needed to fit my somewhat long body.
I am not that tall by any standard but an average 5'4" woman, however, my natural waist sits quite high up. That only means that a lot needs to be done in regards to adjusting the crotch length of the pattern pieces. I also need to make adjusts for the bum too (I thought I would put it out there).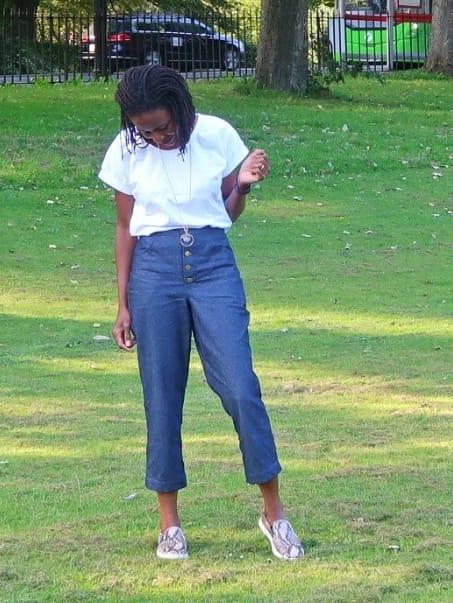 I am both a pattern tester and an ambassador with Love Notions patterns. This means that any purchases you make using the Love Notions patterns links I share here earns me a small commission which supports this website. This comes at no extra cost to you and you are under no obligation to use them. Thank you.
The Pattern

The Love Notions Glissando pattern features three variations: a knee length skirt, cropped pants and shorts.
Features
Size range 0 – 32
Meant for stable woven fabrics
Exposed buttonfly
Full belly adjustment option.
Here are more of my Love Notions sewing pattern reviews
The Fabric
The pattern is recommended for non-stretch medium to heavy weight woven fabrics ranging from denim, linen, chambray, quilting cotton, Cotton poplin, twill and many others.
For my version, I decided to use a lightweight an indigo blue denim fabric I purchased from Fabrics for All in Leeds, UK. The lightweight denim was much easier to work with compared to the heavy denim which was my first choice. The fabric was much easier to fit around my body which also gives both a casual and dressy look.
The Making
I would want to say that this was such an easy make, but I won't. I know we can all agree that we do not always find perfectly fitting pants in ready to wear. The same goes for sewing patterns because they are drafted for a standard body and size. It is not surprising to see that even people with similar around the body measurements have other different adjustments they always need to cater for such as Lengthening or shortening the torso, swayback adjustment and many others.
During the pattern testing process, I made 3 toiles/muslins to get the perfect fit. Yes, I wanted to pattern test the skirt version because it was the easier option. However, that did not happen as I ended up making the cropped pants. I embraced the challenge and I knew by the end of it all I would have learnt a lot about fitting pants on me.

I sewed up the cropped pants version in size 4 with the alterations mentioned below.
Alterations
I made two significant alterations to the pattern that gave me the fit i was finally happy with. I lengthened the crotch length and also made a sway back adjustment.
Adjusting the crotch length
I measured my crotch length with an elastic tied around my natural waistline. I took the measurements from one end of the elastic to other (as shown in the picture below).
This helped me determine both the front and back crotch measurements which I later accommodated for on the pattern pieces. I added 7/8 of an inch to both the front and back pieces by cutting across both pattern pieces as shown.
I made a swayback adjustment to the back piece , a common adjustment to me, that I accommodated for when I was lenghtening the back crotch.
The Finished Project
I am super proud of myself that I did not give up in the middle of the process. I have always considered sewing pants like the Love Notions Sabrina Slims but the thought of fitting pants always terrified me. I am now ready to sew more pants. I also plan to sew up the Glissando skirt in A heavy denim which Is likely to become a winter staple when paired with tights and boots.
Would you have a go at sewing up the Glissando pants or skirt? Thank you for stopping by. Xx