We may earn money or products from the companies mentioned in this post.
I am so excited about that start of the year 2020. We all start a new year with very good intentions, however, life often happens. And I strongly believe that with most of what happens we have much control over the circumstances. So I am starting off this year with my best foot forward. Enough with the preaching … :). I would like to share with you my January sewing makes.
At the start of the year, I came up with my sewing plans and goals for the year which may seem rather ambitious. But I strongly believe that your goals set a limit for you. Below is a video of my 2020 sewing plans and goals if you would like to watch it.
In my sewing plans video, one of the goals is to sew more separates ( skirts, tops and pants) as these are gaps in my wardrobe. I am being more intentional in my sewing and focusing on items and skills which are much needed. And in the month of January, I sewed up six items and of which three were mine and three for others.
Burda 09/2010 #121A
The first item(s) are two turtleneck tops I sewed up using the Burda 09/2010 #121A. This was an easy make as it features just 3 pattern pieces. The turtleneck piece is attached to the bodice pieces which comes off as just a single piece. The grey one was made out of a viscose jersey fabric whereas the black one was out of a cotton jersey fabric. And I cut them up in size 36.
Sewaholic – Hollyburn Skirt
My second item is a skirt I made using a pattern which has been around for quite a while. I am not sure what took me this long to make it but I am glad I did. And this is the Hollyburn skirt by Sewaholic patterns. It features 3 lengths views and I went with view B which is knee-length in size 4. I sewed it up in a brown stretch suiting fabric gifted to me by Minerva.
Jalie 3136 Leotard
The next item is a gymnastics costume I made for my daughter using the Jalie 3136 leotard pattern. I made it out of pink and purple lycra fabric.
A full review of this leotard pattern can be read here.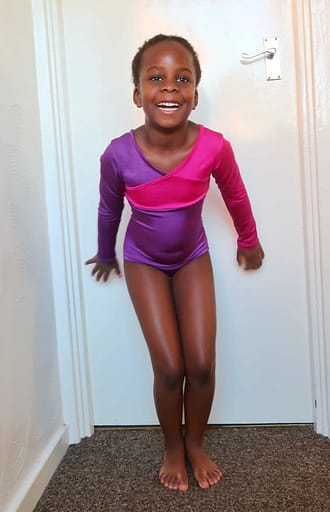 Ottobre 06/2018 #9
And my final makes are these kids jumpers I sewed up for my daughter and her friend. I made one for her friend's birthday and they both love them. I sewed them up using a pattern from Ottobre 06/2018 #9 in similar sweatshirt fabrics. And I cut both sweatshirts in size 122.
Here is the video of my January makes if you would rather watch instead.
In conclusion, I was happy with my month's makes and I hope February has more to show for it. Thanks for stopping by x.