We may earn money or products from the companies mentioned in this post.
I have always wanted to sew a shirt but I knew it is such an engaging sewing project and not the easiest to undertake. I am so glad I found the Love Notions Melody Dolman blouse because it is an easier alternative to a shirt. This pattern has been updated with more sizes added and It is currently on a release sale going for $5 (today only 21/05/2021) and it will be at $9 for the rest of the week.
Love Notions is also holding a virtual workshop on zoom if you would like to join with other sewists to sew the Melody Dolman blouse. You could book your place to the Melody Dolman Workshop here.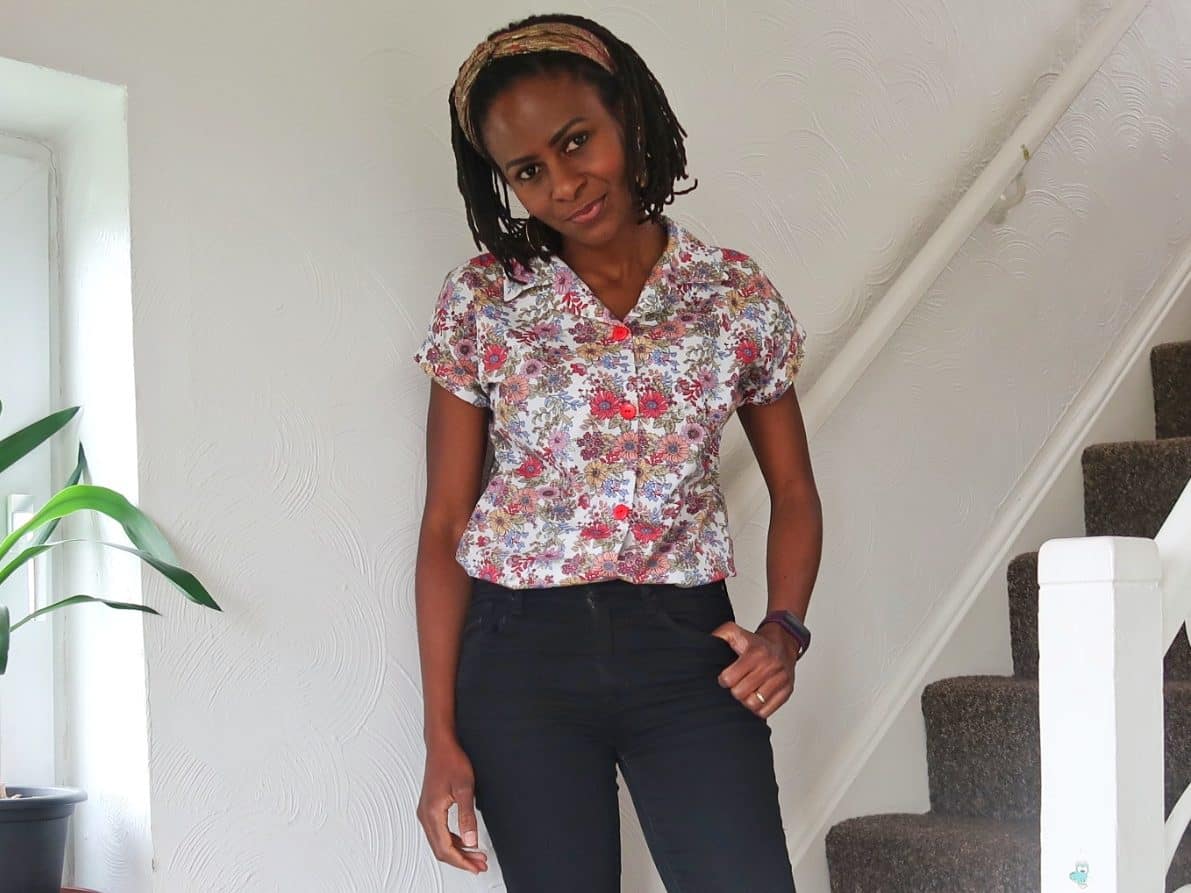 Pattern Description:
The Melody Dolman is a woven button-down dolman with a shirt-tail hem that can also be knotted at the waist. This dolman gives you a polished look without a lot of effort. This pattern is recommended for anyone new to sewing button-down shirts and comes with few pattern pieces to work with. It features an easy to sew camp collar with a construction video that holds your hand throughout. A breast pocket and sleeve cuffs are optional features that come with this pattern.
Here are more of my Love Notions sewing pattern reviews
Pattern Sizing: The sizing of this pattern has been extended with the update. It now comes in 9 sizes running from XS – 5X. I made size XS which was true to size.
Were the instructions easy to follow? This is one of the easiest shirts you can ever sew. The instructions are easy to follow and an instruction video is included for the not-so- easy steps in the construction.
What did you particularly like or dislike about the pattern? I like that the collar comes in just one piece which is cut in a pair and sewed together. And another bonus feature of the Melody Dolman is that it does not come with a yoke which makes its construction less complicated.
Fabric Used: The Melody Dolman pattern is recommended for light to medium woven fabrics such as Linen, Shirting, Chambray, and Viscose/ rayon. I used Rose & Hubble Cotton Poplin Fabric (Ivory) from Minerva which paired up perfectly with this blouse.
Pattern alterations or any design changes you made: I shortened the bodice pieces by 1.5 inches which is a common adjustment i make because i have a short torso.
Would you sew it again? Would you recommend it to others? Of course, I plan on sewing more of this pattern. I would recommend this pattern for anyone who has never sewn a shirt and wants to have a go at an easier one.
Conclusion
I am not sure what took me this long to sew this blouse but I love this blouse. I have wanted to sew a shirt for the longest time and this blouse has made it possible. I hope you have a go at sewing the Melody Dolman blouse.