We may earn money or products from the companies mentioned in this post.
I had the honour of pattern testing the Love Notions Summer Basics Tank and Dress pattern which was released early this month. It is a must-have pattern for anyone who would love to sew up a summer wardrobe in jersey fabric. I have previously pattern tested for Love Notions, and I love how their patterns are drafted as well as their well-written instructions.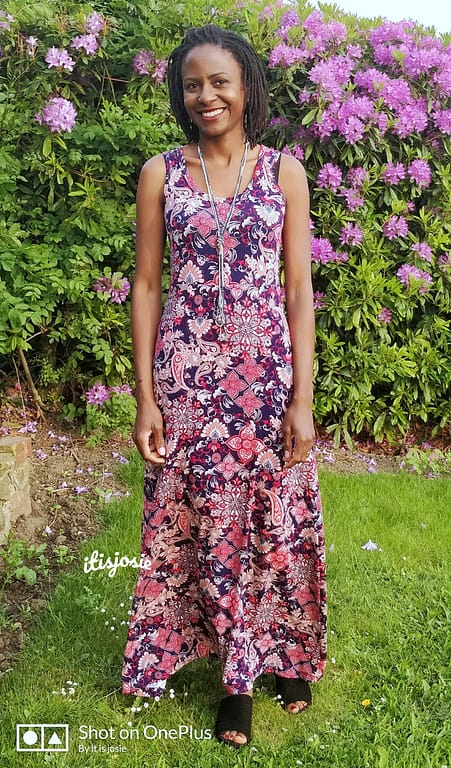 Pattern Description
The Summer Basics Tank & Dress Pattern features three views which include a tank, knee-length dress and maxi dress. Although all these views are fitted in the bust, the dress views have some ease in both the waist and hip area. On the other hand, the tank view is fitted throughout which makes it a perfect piece for layering. It is worth noting that all Love Notions patterns come with a full bust piece which makes it perfect for all body shapes and sizes.
Pattern Sizing
This pattern comes in seven sizes ranging from XS to XXXL, and each of these sizes comes with a full bust piece. And I sewed up a maxi version in size XS which fits pretty well.
Fabric Used
I sewed up the maxi version in Cotton jersey fabric (95% cotton and 5% elastane) which has both sufficient stretch and recovery. And I purchased this beautiful colourful fabric from Pounds fabric (an online shop that stocks discounted fabrics) unfortunately, the fabric I used is out of stock.
Pattern Alterations
Sway back adjustment – this is an alteration I often make on most of the dresses I sew up.
Shortened the maxi dress by two inches at the hem as it came up quite long.
Conclusion
I recommend this pattern to anyone who would like a go-to summer essentials wardrobe pattern. It is a timeless pattern with three wardrobe basics which suit everyone. And the pattern instructions are well-written with an additional video tutorial on attaching both the neck and arm binding. I plan to sew up many more pieces from this pattern given the three versions it has to offer.