We may earn money or products from the companies mentioned in this post.
I am really excited about this gorgeous Lyric dress by Love Notions. I was gifted the beautiful Viscose Linen fabric by Fabrics for All to review as a member of their blogger team. It is your perfect summer dress and I know we have a few days to Autumn/Fall. I am a tropics girl who can be caught sewing a summery outfit in winter.
Here is a full video review of the Lyric dress
The Fabric
The viscose Linen fabric I used offers you the best of the two worlds. The viscose content offers the soft drape you would not get from 100% linen. The linen content adds body to the fabric making it perfect for dresses. This fabric washed well and the blend of both fibres made it an easy iron too. we can agree that neither linen nor viscose is an easy fabric to iron on their own.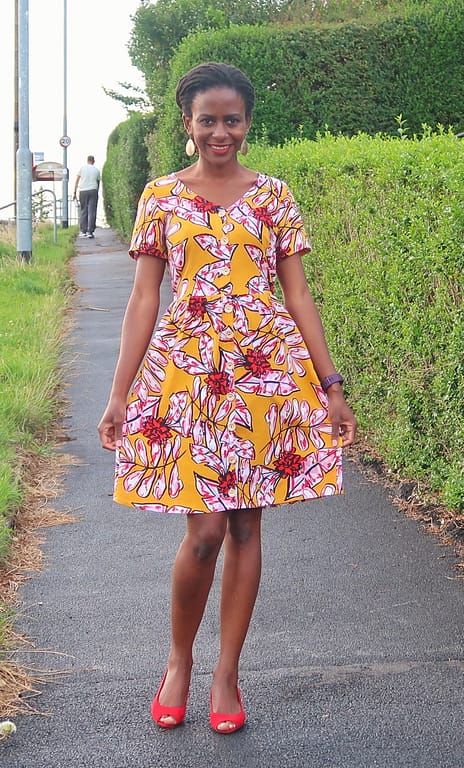 This pattern is recommended for medium weight woven fabrics such as Linen, Chambray, Rayon/Viscose and Cotton poplin.
The Pattern
The Lyric sewing pattern is both a dress and top pattern which comes with a coordinating girls' Dolce dress pattern.
Pattern Features
Size ranges 0-24
Three lengths: peplum, knee & midi
Four bodice cup sizes A-D
Flared & gathered skirt options for dress lengths and a peplum top.
6 sleeve options: sleeveless, short, flutter, bell and two lengths of bishop- elbow and full length
Patch pockets for the gathered skirt
Slash pockets for the flared skirt
Darts for shaping
More of my Love Notions sewing pattern reviews.
The making
This dress is recommended for a confident beginner and I guess because it has buttonholes to deal with. This is because they were a nightmare for me to sew this time round. The instructions are well-written and very easy to follow as usual. The additional video tutorial within the instructions helped with finishing the neckline very easy too.
I went with the knee-length, gathered skirt options with short sleeves. I sewed up size 2 throughout and with a cup size A.
Alterations
I altered the gathered a bit to give me some soft gathers. The gathered skirt option is self-drafted with the measurements of each size included. I did not want heavy gathering at the waist considering my fabric was a bit on the heavier side. I did some maths and I eliminated a quarter of the total skirt width. I also lengthened the knee-length because it was coming off short considering the finished measurements.
The gathered skirt option comes with patch pockets which I am not a fan of. I instead used a pocket piece from a pattern I have used before to create in-seam pockets.
I also added ties to the dress which attach at the side seams.
The Completed Project
I love this Lyric dress and i do not know why it took me this long to make it. I know I altered the pattern a bit but i guess that's beauty with making our own clothes. This will not be my last and I hope to sew up the Dolce dress for my daughter in the future.
Thank you for stopping by. xx