We may earn money or products from the companies mentioned in this post.
A knitted Blazer!! Yes, please. I was honoured to take part in the pattern testing process of the newly released Metra Blazer by Love Notions. This blazer is quite different from the ordinary blazer which is often made in woven fabrics and may require lining without mentioning the amount of fitting that comes with it. The Metra blazer, sewed in stable knit fabric, is a less complicated alternative and one I have been missing in my me-made wardrobe.
I am both a pattern tester and an ambassador with Love Notions patterns. This means that any purchases you make using the Love Notions patterns links I share on here earns me a small commission which goes to support this website. However, this comes at no extra cost to you and you are under no obligation to use them.
It is worth mentioning that Love Notions has launched their very first Live virtual workshop which is the Metra Blazer workshop. This is ideal if you need some hand-holding during the construction process and also if all you need is some motivation. I hope you check it out if this sounds like something you need.
Here are more Love Notions pattern reviews
Here is the link to the pattern review video if you would rather watch it instead.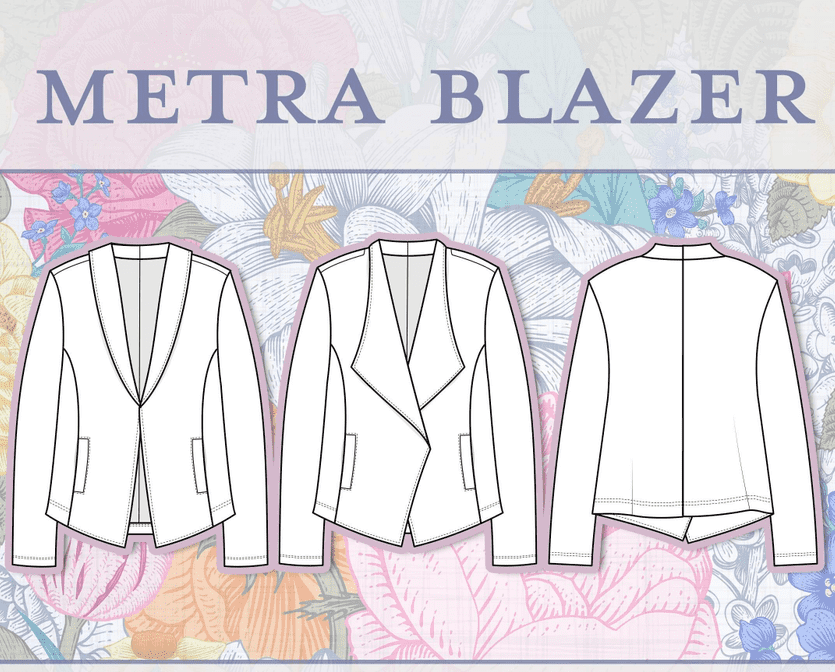 Pattern Description:
Two collar options: a shawl and a wide lapel
Welt in-seam pockets
The back seam which helps with fitting.
Pattern Sizing:
The Metra blazer comes in 9 ladies sizes ranging from Size XS – 5X and all these sizes come with full bust pieces too. I sewed up size XS which is the size I make for Love Notions top patterns.
I went with the wide lapel version which I found to add a bit of drama to the blazer. I guess that's the beauty of making your own clothes. You are free to express yourself whichever way you want to.
Were the instructions easy to follow?
Pretty much yes, however, this pattern is recommended for an intermediate sewist. This is because some techniques in the construction process may not be very easy for a beginner. Fortunately, the instructions come with some video tutorials which are helpful for the steps which are not as easy to understand.
Fabric Used:
This pattern is recommended for medium to heavy-weight knits which have at least 25% stretch such as Ponte, Scuba,
Liverpool, Double knits, French terry and Sweatshirt fleece.
I used Ponte fabric to sew up the blazer. I sewed it up using a straight stitch on my sewing machine and my overlocking machine to finish off the seams. The fabric sewed up with ease and I would recommend it for a beginner,
Sewing with Ponte Fabric
Size 80 ballpoint or stretch needle is recommended for the needle to glide between the fibres without snagging or tearing the fabric as you sew.
It is also important that you refrain from pulling and stretching the fabric as it passes through the machine because knitted fabrics would not recover from it.
Pattern alterations or any design changes you made:
I shortened my pattern pieces by 1 inch because I have a short torso. However, I will not need to make this alteration to the final pattern because this adjustment has been catered for.
Would you sew it again? Would you recommend it to others?
Of course, I would sew this blazer again because it pairs up well with a number of pieces in my wardrobe. And yes, I would recommend this pattern to an intermediate sewist and a very confident beginner.
Conclusion:
What's not to love about the Metra blazer? It can easily turn into a wardrobe staple, an item that easily pairs up with most items in my wardrobe ranging from jeans, dresses and pencil skirts.
Thank you for stopping by. xx