We may earn money or products from the companies mentioned in this post.
I popped into Fabrics for All once again with the need to find fabric for my monthly make. Fabrics for all is a family-owned fabric shop located in Armley, Leeds which also has an online presence too. I joined the Fabric for All maker's team where I am given fabric in exchange for a blog post to review that fabric.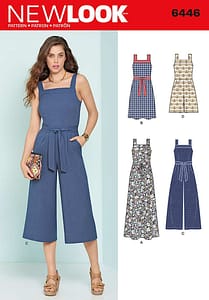 If you know a thing about me, you would know that I love jumpsuits. So I popped into Fabric for All to pick up fabric to sew up the New Look 6446 Jumpsuit which was also meant to be my entry into the 'sew together for summer 2019' challenge. And the challenge this year was to sew up a jumpsuit, however, this particular the jumpsuit was not ready by deadline day. So I decided to enter the toile instead which made me a winner of one of the prizes.
The Fabric
For the pattern I had in mind, I needed a stable woven fabric which was still light enough for a summer outfit. I picked up a 100% cotton fabric which is a beautiful print with green and white birds on a black background. I know a black background may not sound like a summer fabric choice but that's before you see the fabric in person. It was such a pleasure to work with this fabric which washed pretty well and ironed well too.
New Look 6446 Pattern
The pattern I choose was the New look 6446 which I picked up last year but I was not sure I would sew it up any time soon. As we can all agree that 'the big four' patterns are not the easiest to sew up and you come out with a well-fitting garment.
This pattern comes in four variations: a maxi dress, a knee-length dress, a playsuit and a jumpsuit. All four variations have the same bodice which features princess seams, a squared neckline, thick straps and an invisible zipper. It also comes with a belt strap which helps to define the waist.
The making
This pattern comes in sizes 8 to 18 and per my measurements, I was supposed to cut out size 8 at the bust and size 10 for both the waist and hip. As we know the big four patterns come with a lot of ease added, so I decided to use the finished garment measurements instead and cut it out in a size 8.
I first sewed up a toile in a rather cheaper fabric before cutting into the beautiful fabric. And I found that the bodice was a bit roomy so I decided to take out some amount at the side seams. However, the trouser piece fitted pretty well at both the waist and the hip area.
The sewing process was pretty much straight-forward and I did not need to make any major alterations to this pattern. Of course, the invisible zipper is never for the faint-hearted but I am getting better at it.
The finished project
I love the finished jumpsuit which is exactly as it appears on the pattern. I am certain I will be sewing up a few more jumpsuits or playsuits from this pattern as I have defined the fit and I have less to worry about.
Thank you for stopping by and thank you Fabrics for all for the fabric gift.