We may earn money or products from the companies mentioned in this post.
I am so sure we can all agree that this year, 2020, has gone by so fast. I do not need to get into details because we all probably have personal stories to tell. Where did the summer go? I do not remember enjoying wearing my me-made summer clothes out of my house much. And right now we need to start sewing for Autumn/Fall and Winter. And I would like to offer you some inspiration for your cold season wardrobe featuring Love Notions patterns.
Love Notions is currently running a 40% off site-wide birthday sale from Monday 5th October to Friday 9th October. This is also the last sale of the year. I hope you are inspired to pick up a few patterns before it ends.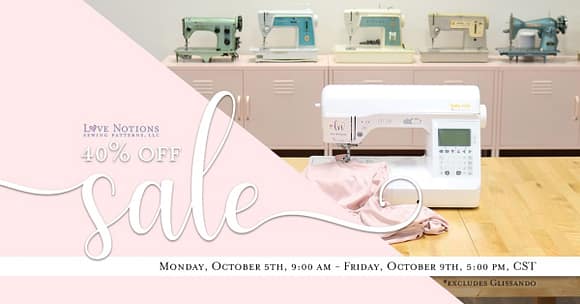 I am both a pattern tester and an ambassador with Love Notions patterns. This means that any purchases you make using the Love Notions patterns links I share on here earns me a small commission which goes to support this website. However, this comes at no extra cost to you and you are under no obligation to use them.
Just in case you are wondering why Love Notions patterns? I have been a pattern tester with Love Notions for over 2 years. I have loved how the patterns are drafted and with the extra attention given in writing up the instructions. These patterns come in a wide size range not forgetting the full bust pieces included on all ladies' patterns. These are PDF patterns so you should not expect them to come in the mail. The PDF patterns come in 3 versions: A4/ Letter size, AO size and a projector copy. This gives you instant gratification with many options to work with.
Love Notions patterns are drafted for ladies, gents and children. And many adults especially ladies' pattern come with coordinating kids' patterns. I would like to share with you patterns I have both sewed up or plan to sew up in groups.
Tops
Bottoms
Jumpers
Cardigans / Sweater
Coat
Men and Boys
That is a round-up of my Autumn/fall and winter LoveNotions pattern recommendation. I hope you get round to sewing up some. Which of the patterns shared would you love to have a go at making?
Thank you for stopping by. xx