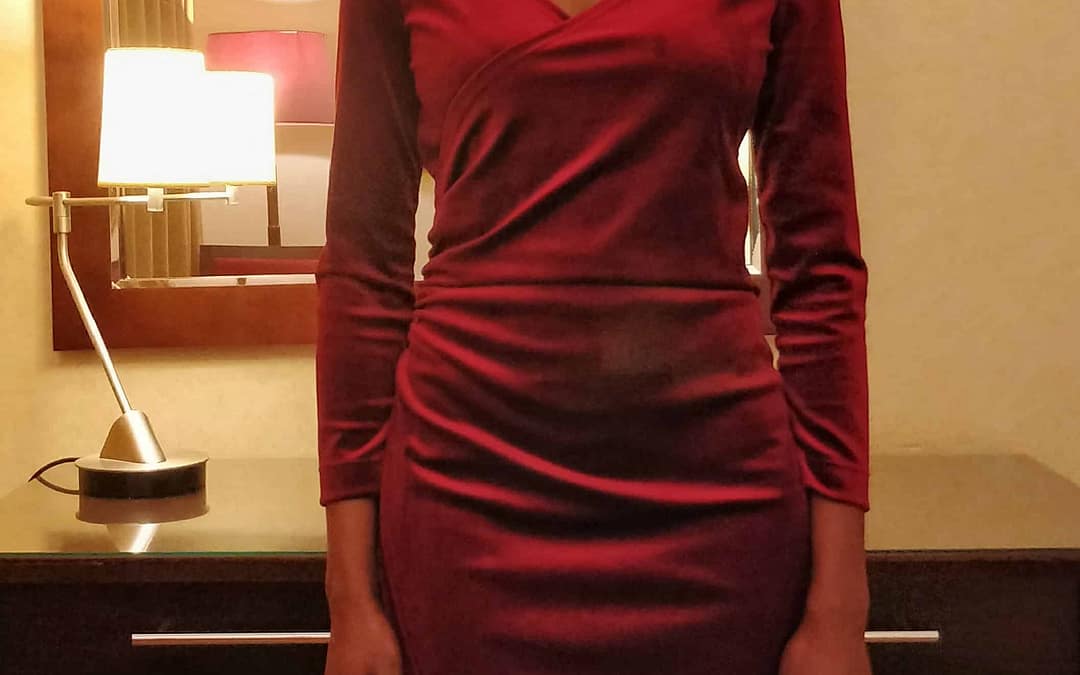 Our 10th wedding anniversary was fast approaching and I thought of making a beautiful dress to wear to dinner at our anniversary mini-moon. I remember passing by my local fabric store and I had some time to spare which led me to the pattern books. I passed through quite many of them but the Burda 6829 stood out for me and I knew it was the one.
Pattern description
Burda 6829 is a multi-sized dress pattern that goes from size 8 up to size 18. And it comes in two options A and B of which the only difference between the two is the length from the waist to the hem. Option B is 3 inches or 8 cms longer than option A.
This Pattern is fitted dress with waist gathers on one side which makes it rather flattering. It is recommended for a 4-way stretch fabric which makes fitting it much easier compared to woven fabrics.
Size made
From the pattern sizing recommendations, I was meant to make size 36 /10 whoever when I read recommendations from others who had sewed up this dress, they all seemed to recommend sizing down to the next size. I cut up the smallest size (size 34/8) and it was my perfect size. And I also went for option B which slightly longer as I found it more appealing.
The Making
The instructions were easy to follow and It comes together quite fast as it is with most knit fabrics if you are able to sew it up with an overlocking machine /serger.
The interfacing used for the neckline seemed to have been of concern of most people who had sewed up this dress as it kept popping out since it was not anchored anywhere inside the dress. So I decided to omit it and instead folded the neckline over once and sewed it down using my coverstitch machine.
Fabric Used
I used this gorgeous knit velvet fabric in wine from Minerva Crafts which sewed up really well. And it also washed very well, however, extra care was taken while ironing it (I guess it is the case with most velvets) as it almost melted on me before I had lowered heat of my iron.
Pattern Alterations
I made a sway back adjustment on the pattern piece.
I omitted the neckline interfacing.
My Conclusion
The dress came out really well and it honestly exceeded my expectations and of course the hubby's too. I was really chuffed about it. I can confidently say that this is the most fluttering and smartest dress I have ever made in my less than 2 years of dressmaking.
I Plan to sew up this pattern again and I would recommend it to anyone who wants a smart occasion dress to wear.