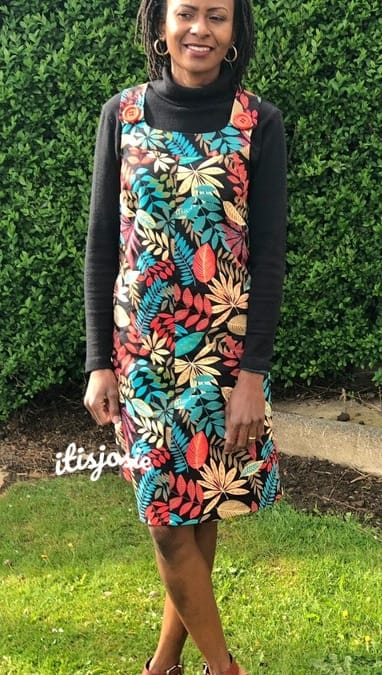 I am obsessed with pinafores and I just thought I would put it out there. It is for this reason that I decided to buy the Ivy pinafore by Jennifer Lauren Handmade. My initial inspiration to purchase this pattern was my RTW denim pinafore from Dorothy Perkins which I bought almost 2years ago. I have worn it year-round with layers underneath in the cold months and in the warmer months on top of vests or short-sleeved t-shirts. And I have always received compliments whenever I have worn it. I contemplated creating a pattern from it as I would be able to reproduce it in many other fabric choices while keeping the fit. However, just before went down that road I landed on The Ivy Pinafore by Jennifer Lauren Handmade on Instagram.
Pattern Description
The Ivy Pinafore is designed to be layered over collared shirts and knit tops and it comes in two views or versions. Version 1 is of a rather full skirt pinafore which I was definitely not after. However, version 2 is the pinafore of my dreams. It is an A-line semi-fitted pinafore which would be flattering on all body shapes. And this pattern comes within seam pockets (who would not want some pockets on their pinafore?
This pattern original recommendation was to construct it fully-lined, however, Jennifer wrote a post showing how the lining can be omitted and replaced with bias binding around the armscye.
Pattern Sizing:
This pattern comes in 10 different sizes and it ranges from size 6 to size 24. Based on the pattern size chart and finished garment measurements, I went with size 8. And being me and my dislike for making toiles, I decided to cut up two pinafores in two different patterns in size 8.
I first sewed up the first one without pockets just in case I need to make any alterations. And yes, it ran really big around the waist and hips area. I took a break and came back to it after a week. Needless to say, the bust area fitted really well and the alterations I needed to make were from the bust dart down to the hem.
The instructions of the Ivy Pinafore are well-written and very easy to follow considering it is designed for confident beginners to advanced seamstresses.
What did you particularly like or dislike about the pattern?
The original idea of sewing it up fully-lined was not appealing to me as It would end up being quite warm if made out of thick outer fabric like denim. However, the idea of omitting the lining and rather sewing it up with some bias binding instead was more appealing to me.
Fabric Used
The printed version of the pinafore was made out of a canvas fabric which I bought from Pound a yard fabric shop in Dewsbury (and no the fabric was not just a pound a yard). It was sold as a bag making fabric but as soon as I saw it I knew it was perfect for an Ivy pinafore.
The plain pinafore is made from a midnight sheen denim fabric I purchased from pound fabrics (an online store that stocks a range of good quality fabrics at such a bargain).
Both fabrics sewed up and ironed really well and they were perfect for the pinafore.
Fabric recommendations for this pinafore
Pattern alterations or any design changes you made:
The first alteration I made was to add some centimetres to the length as I often do to most patterns. I added 1 ¾ inch or 4.5cms at the shorten and lengthen line on the pattern.
And the second alteration was the amount I took in around the pinafore. I took out a total of 7 inches around the hips area which I blended into the side seam at both the hem and just below the bust dart. And I transferred these changes to the original pattern.
Conclusion
After making the necessary adjustments to the original pattern, I can confidently say these two are not the last Ivy pinafore I will ever make. I plan to make way more in different fabrics and colours. And I am also proud to say that the Ivy Pinafore is the pinafore of my dreams.
Here is a video where I review this pattern if you would rather watch than read.