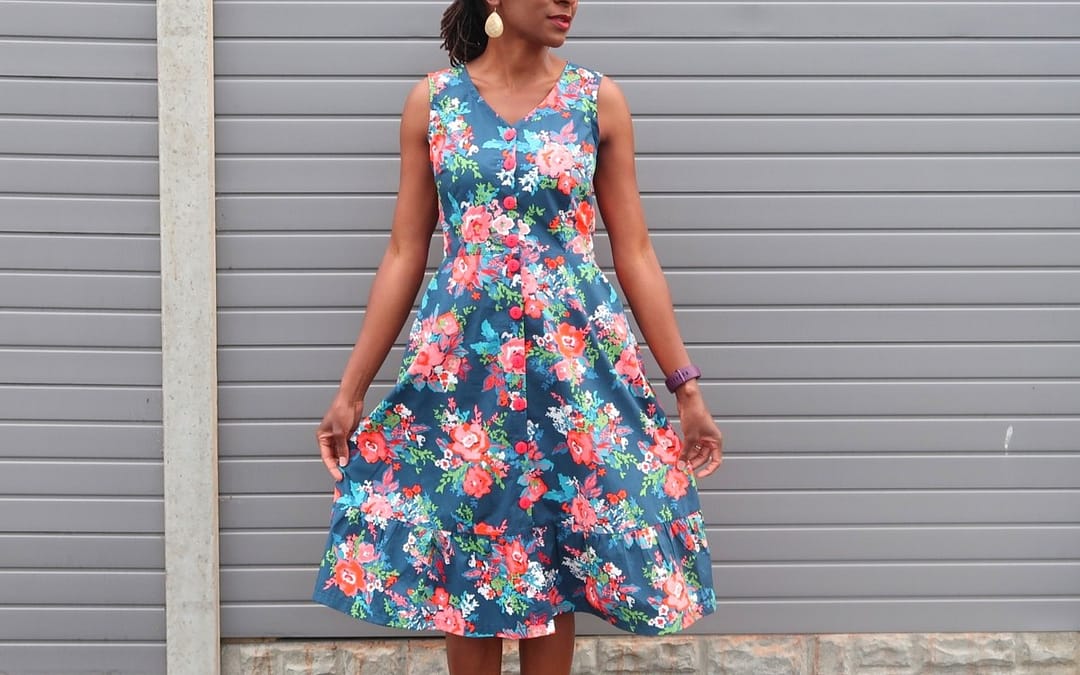 I love a button-down dress and that's why I am bringing you another Lyric dress by Love Notions. This is the second time I am making the Lyric dress after my first version that made me fall in love with this pattern. I made my very first dress version with short sleeves and a gathered skirt to which I added some ties. I decided to go with the flared skirt this time around that I have hacked a bit and I am so happy with it.
I reviewed the first version on my blog here and I also uploaded a pattern review video attached below if you would rather watch the review.
The Lyric dress pattern has been redrafted to increase the size range from 0-24 to 0-32. The pattern now accommodates more sewists which is always a bonus. It is today's feature Friday pattern on sale for $5 (today 25th June 2021) and will continue on a release sale at 30% throughout Saturday and Sunday.
Pattern description
The Lyric sewing pattern is both a dress and top pattern that comes with a coordinating girls' Dolce dress pattern.
Pattern Features
Three lengths: peplum, knee & midi
Four bodice cup sizes A-D
Flared & gathered skirt options for dress lengths and a peplum top.
6 sleeve options: sleeveless, short, flutter, bell and two lengths of bishop- elbow and full length
Patch pockets for the gathered skirt
Slash pockets for the flared skirt
Darts for shaping
More of my Love Notions sewing pattern reviews.
Pattern Sizing:
The pattern has been redrafted and the sizing increased to run from 0-32. All these sizes come with full bust pieces. I sewed up size 2 throughout using a B cup bodice as per the instructions.
Were the instructions easy to follow?
Yes, the instructions are quite easy to follow. However, this pattern is recommended for a confident beginner because it requires sewing a number of buttonholes and with bias tape.
Fabric Used:
The pattern is recommended for light to medium weight fabrics such as cotton poplin, linen, cotton lawn, chambray and rayon.
I used the Art Gallery Fabrics Everlasting Cotton Poplin Fabric I receive from Minerva as a minerva ambassador. This fabric was a dream to sew up with.
The Making and Pattern alterations :
I used the flared skirt option for my dress which comes with both knee-length and below-the-knee options. I went with the knee-length piece that I later shortened by 1 inch.
I cut out a rectangle that was roughly 1.5 longer than the dress hem which I gathered with soft gathering. I added a gathered piece of the dress to create a ruffle for my dress.
Conclusion:
This is just the second Lyric dress and I see many more to come. This pattern is a blank canvas that can easily be hacked to give it a new look and style. Thank you for stopping by.