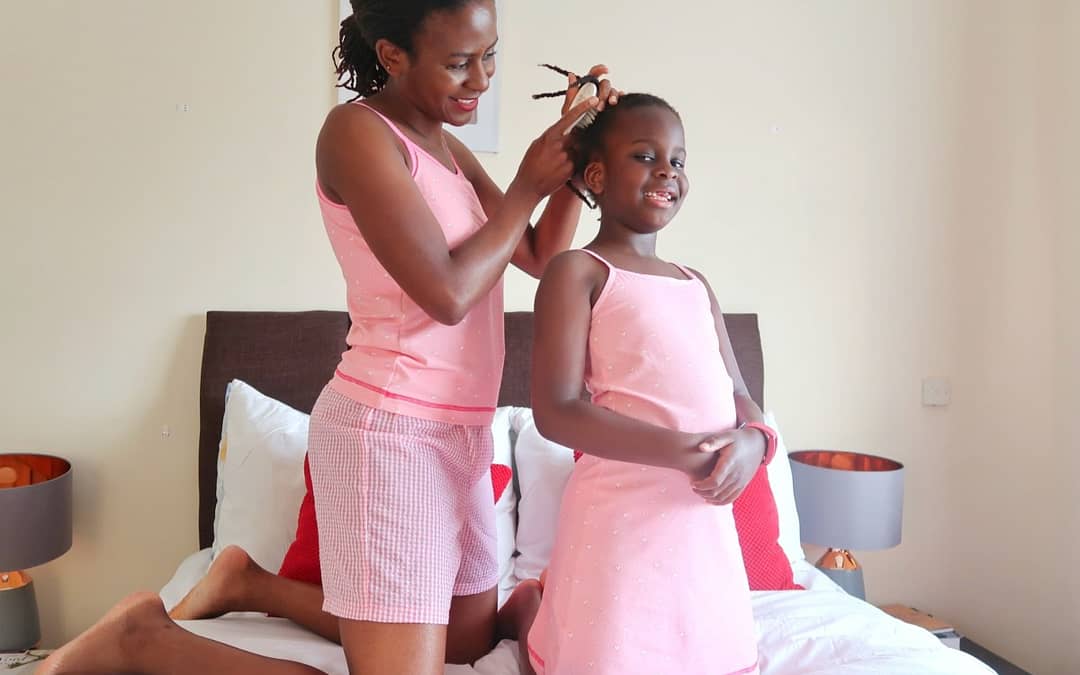 I never thought I would ever be excited about sewing pyjamas or nighties. I was pretty content with the store-bought ones until I made my very first Luna Loungewear by Love Notions. I caught the bug and I must say nothing fits better than my me-made ones. I made the dress with the shelf bra and it got the seal of approval because it gave me both comfort and containment of the "girls". I am happy to answer the door in it without feeling less put together.
Pattern Description:
The Luna Loungewear is such a versatile pyjama / loungewear pattern. There are a number of options to choose from that you can easily customise with a wide range of fabrics. The bonus is that it comes in both ladies and girls patterns which are on sale for $5 each today only (11th may 2021). You can choose from a knee-length nighty, a cami top, shorts and capri which could be made in either knits or woven fabrics. It also comes with an optional shelf bra which i appreciate so much.
Pattern Sizing
Ladies Luna Loungewear comes in sizes XS up to size XXXL which all come with full bust pieces. I made size XS for the cami top and the nighty dress and size S for the shorts.
The girls loungewear comes in sizes 2T – 16 and I made size 8 for my daughter.
Were the instructions easy to follow?
Yes, the instructions were very easy to follow.
What did you particularly like or dislike about the pattern?
I like the fact that this pattern comes with many options to choose from. I also love the optional shelf bra that comes the pattern. I added the bra to both the dress and top I made for myself.
Fabric Used:
The Luna loungewear pattern is recommended for both knit and woven fabrics. Although the woven fabrics can only be used for the shorts and capris.
For the ladies knee-length night, I used a medium weight cotton jersey from my stash, And I used Art gallery Fabric cotton jersey from Minerva for the girl's dress and cami top. I made the the shorts from Seersucker gingham fabric from my stash too.
The making
The pattern offers many options of finishing both the neckline and the armholes. The easiest could be using binding made from the fabric used for the body. However, I opted for fold-over elastic (FOE) for all my versions and I used two sizes of the fold-over over elastic. I used 5/8 inch wide elastic for the girl's version and 1 inch wide one for all my versions. I needed a wider elastic for mine because I was encasing two layers of fabric; the shelf bra and main body pieces.
How to sew with Fold-over elastic.
Pin the recommended length of the FOE to the pattern pieces matching the middle pieces together with the elastic aligned to the back piece. Sew with a long basting stitch while remembering to stretch the elastic a bit as you go.
Fold over the remaining half of the elastic onto the right side of the pattern piece.
Sew it together with a three step zigzag stitch. For the 1 inch wide elastic I used a 3 step zigzag stitch with settings of 6.0 width and 2.5 length.
I also added a little decorative detail to the hems of both the girl's dress and my top by using a three thread coverstitching on reverse in deep pink thread. I was happy with it and so was my daughter.
Pattern alterations or any design changes you made:
I shortened the knee-length nighty by 3 inches to get it to a length I was happy with.
I omitted the pockets on the shorts because I wanted to sew them up quickly.
Would you sew it again? Would you recommend it to others?
I have made three sets already and I plan on making more, I would recommend this pattern to a confident beginner who has sewn with knit fabrics before.
Conclusion:
I have three lunas already and I am sure there are more to come because they are such great scrap busters. I don't think i need to convince you how much we each love our pyjamas but I will let this picture speak for its self. Thank you for stopping by.