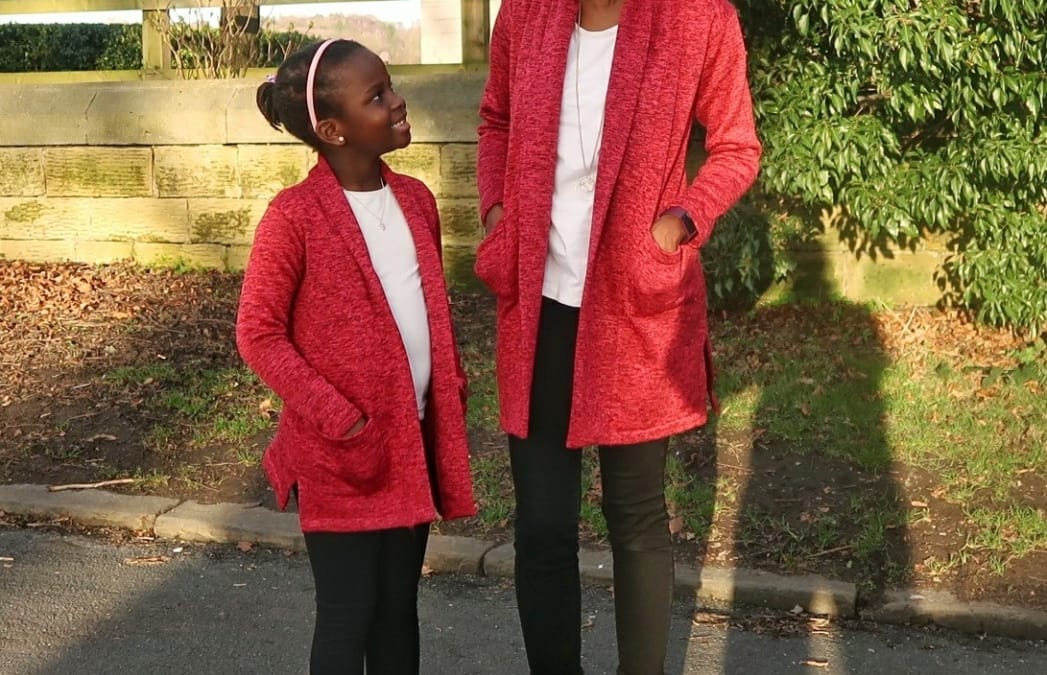 Am I the only one who loves twinning with my daughter? I am almost sure the rest of you are less cheesy than I am. I had the honour of pattern testing the updated version of the Love Notions boyfriend cardigan. I also thought it was the perfect opportunity to sew up the Love Notions boyfriend cardigan for girls in the same fabric. At this point in time, I am still the coolest mum ever and I guess I should make hay while the sun rises.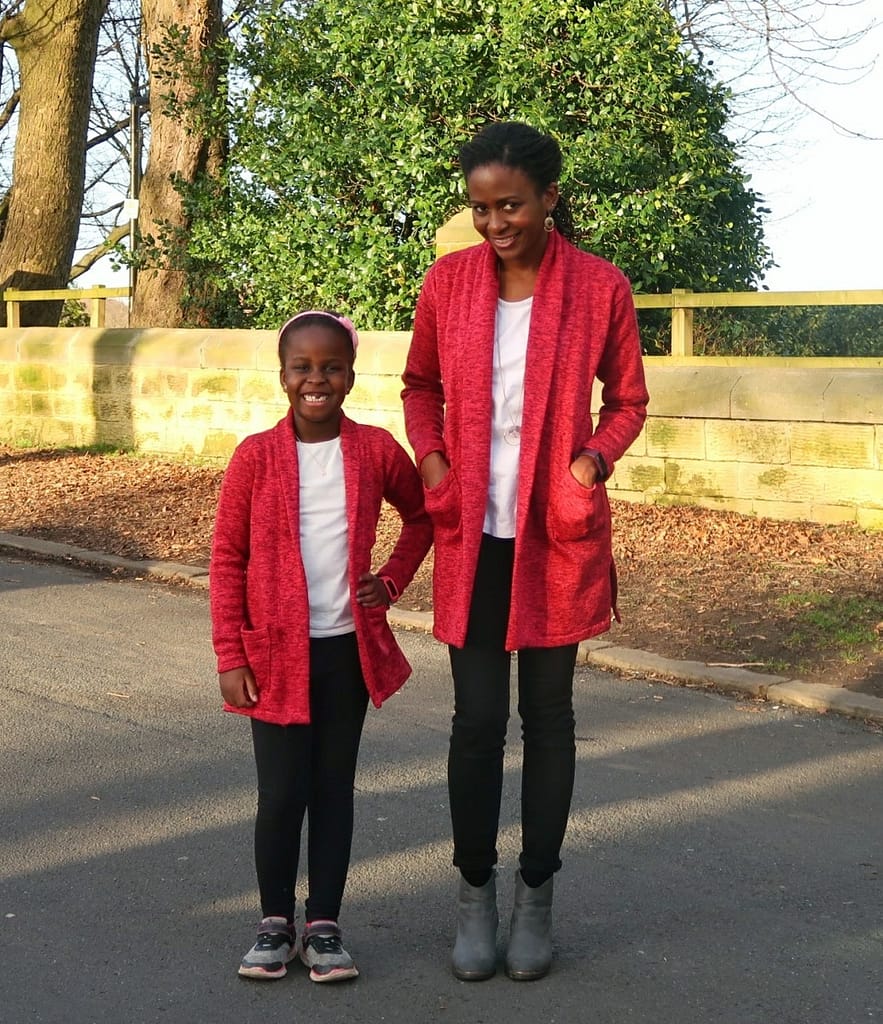 The Love Notions boyfriend cardigan for ladies has been redrafted and It is on a release sale. Both the ladies and girls boyfriend cardigan are the feature Friday pattern(s) and are on sale for $5 (today only 26/03/2021). However, the ladies version will remain on sale throughout the weekend at $9.
I am both a pattern tester and an ambassador with Love Notions patterns. This means that any purchases you make using the Love Notions patterns links I share on here earns me a small commission which goes to support this website. However, this comes at no extra cost to you and you are under no obligation to use them.
Here are more of my Love Notions sewing pattern reviews
I have uploaded a pattern review video of the Boyfriend cardigan in a collaboration with other two ladies and we all show our spin on this pattern. Here below is the video if you would instead watch it.
The Patterns
The Love Notions Boyfriend Cardigan comes in both the ladies and girls version.
Pattern features
Ladies
Three collar options: Shawl collar, plain collar and hoodie.
Two length options: mid-thigh and duster
Girls
Two collar options: shawl collar and hoodie.
Mid-thigh length
Pattern Sizing:
The ladies Boyfriend cardigan comes in 9 sizes ranging from sizes XS-5XL. It is worth noting that all these sizes come with full bust pieces which is a bonus for anyone who often needs to make a full bust adjustment. I made size XS for my version which fitted perfectly well with no alterations.
The boyfriend cardigan for girls comes in 16 sizes ranging from 2T -16. I made size 7 for my missy because she will be turning 7 really soon. It fitted her really well and I did not need to make any alterations.
Were the instructions easy to follow?

The instructions were very easy to follow and this pattern is quite easy to sew up within a short time. I Made the shawl collar version with mid-thig length.
What did you particularly like or dislike about the pattern?
This is the second time I am making the boyfriend cardigan. I made my very first version before the recent pattern update and I am really happier with the overall fit I am getting with the new one. I did not have any issues with the previous one but having made the second version in the same exact fabric I can easily make a comparison.
Another aspect I love about this cardigan pattern is the coverage it gives at the front which comes in handy when it is chilly.
Fabric Used:
This cardigan is recommended for knit fabrics such as Ponte, Cotton Lycra/spandex, Rayon spandex, French terry and sweater knits. The structure of the cardigan is greatly affected by the amount of drape in the fabric chosen.
I used Red Marl Brushed Knitted Fleece I purchased from TFG Fabrics, an online store in the UK, which stocks a variety of knit fabrics. This fabric a sweater knit texture on the front and a fleece one at the back. I used the same exact fabric for my very first Boyfriend cardigan and I was happy to buy the same exact fabric for this one too. This fabric is warm and it washed really well too.
Pattern alterations or any design changes you made:
I made no single alteration to both cardigans and the both fitted really well.
Sewing tips:
I was able to sew up both cardigans out of 2 1/2 metres of fabric. This was only possible because I laid the fabric on the floor and placed all the pattern pieces on it so that they all fitted well before cutting out the pattern pieces.
Conclusion:
I love our twinning cardigans and I would recommend this pattern to any confident beginner who has had a go at sewing with knit fabrics. These won't be the last boyfriend cardigans in my wardrobe. There are more to come …
Thank you for stopping by. xx