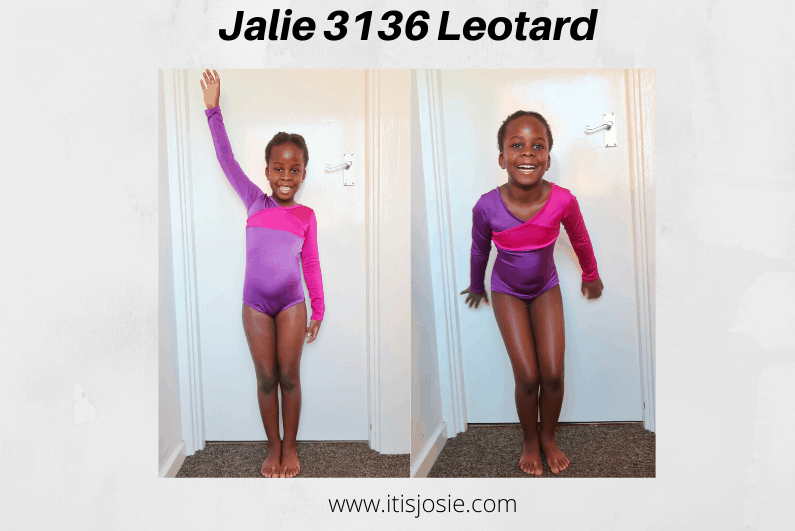 My daughter loves gymnastics and I love sewing her leotards. I can say we both love something about gymnastics. A year ago, she started her gymnastics classes and I made her a leotard before her very first session. I made it using the Jalie 3136 leotard pattern. However, she outgrew it and I had to make her a new one. And she made a special request for a purple leotard but I decided to add more colour to it.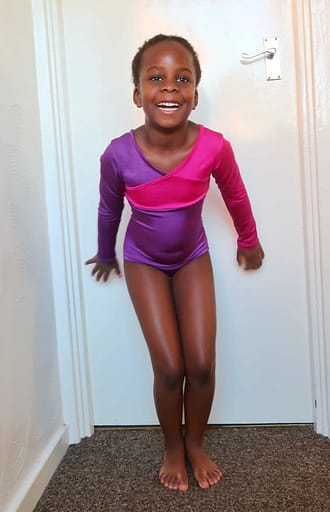 Pattern Description
The Jalie 3136 leotard pattern is an empire-waist leotard with an optional skirt (sewn over the leotard) to turn it into a skating dress. This pattern features two versions: version A with a crossover neckline (front and back) and version B with a boat neck. It can also be made with either long sleeves or cap sleeves. I opted for version A with long sleeves.
Pattern Sizing
This pattern comes in 22 sizes which range from size 2 to 13 for girls and size 4 to 14 for women. I sewed up size 6 for my daughter.
Did it look like the photo/drawing on the pattern envelope once you were done sewing with it? It definitely did. I am impressed.
Were the instructions easy to follow? Yes, they were. And there are video tutorials on the Jalie Youtube channel should someone require extra assistance.
What did you particularly like or dislike about the pattern? The pattern is quite straightforward to sew. I love the instructions on sewing the neck binding which made it all easy to do.
Fabric Used: Pink and Purple Lycra (a blend of nylon and spandex)
Pattern alterations or any design changes you made: I lengthened the body piece by 1/2 inch to allow for growth. The pattern does not include the shortening and lengthening line, so I created one on both the front and back pieces.
Would you sew it again? Would you recommend it to others? Yes, of course.
Conclusion
I love this pattern and there is nothing I would change about it. And I intend to continue using this pattern for my daughter's gymnastics leotards because of the wide range of sizes it offers.