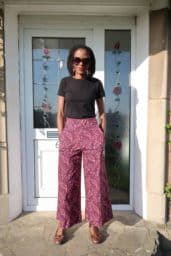 I am back again with another sewing pattern review. I am slowly easing into pants making which is one of my sewing goals of 2020. You can access my 2020 sewing resolutions video in the sidebar of this website or over on my Youtube channel. I also had a goal to sew more separates which I have also done with these Meghan Nielsen Flint pants. I know you are more interested in knowing how I got along with making them.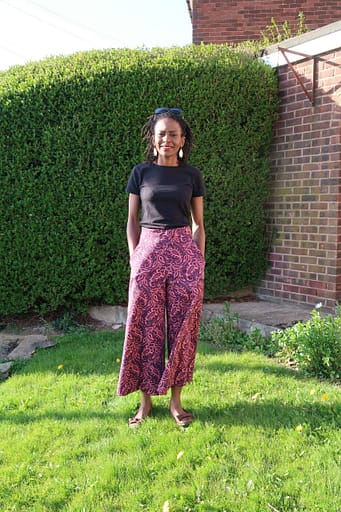 Here is the video where I review this pattern and the fabric in detail if you would rather watch it instead.
The Fabric
I used a paisley print stretch cotton fabric for these pants which was perfect for the project. It washed and ironed really well and I honestly can not fault it at all. I was sceptical about my choice of fabric as I thought that these culottes required a more drapey fabric. However, upon looking at the fabric recommendations for the pattern, I realised that they are drafted for both stable and drapey fabrics. So I went ahead and sewed them up.
The fabric I used was generously gifted to me by Fabrics for All in exchange for a blog post reviewing it. This is a continued arrangement I have with Fabrics for All as a member of their blogger's team. Currently, the physical shop is locked however Sarah (the owner) continues to process orders made both online and by phone. This is the best way we can continue to support small businesses which may suffer during this lockdown.
The Pattern
The Flint pants are wide-leg cropped pants or shorts pattern with a unique crossover closure at the side seam. Pattern sits on the natural waist and features hidden closure at the left pocket. It features release tucks at the front, darts at the back, slash pockets and two waistband options.
The pattern comes in four views. View A is a pair of above ankle cropped pants with button closures. View B is a pair of above ankle cropped pants with tie closure. View C is a pair of shorts with button closures. View D is a pair of shorts with tie closures.
This pattern sizing ranges from 0 to 20 in both print or digital PDF versions. And the curve sizes which are from sizes 14 to 30 are only available in digital PDF version.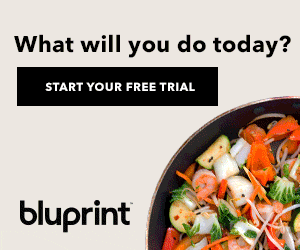 The Making
I sewed up view A these pants in size 2 after making the toile in size 4 which was big. The making of these pants was pretty straightforward thanks to the well-written instructions. However, I still needed to make a few alterations because I rarely get a pattern to fit straight out of the envelope.
The first alteration I made was removing the release tucks at the front. This was mostly because they were likely not to sit flat with the fabric of choice. And also I did not need them for fitting purposes. A detailed tutorial on how to remove the tucks can be found on Meghan Nielsen's blog.
The swayback Adjustment was the other and most important alteration i made to this pattern. It gave these pants an overall perfect fit. It was my first go at making a swayback adjustment on pants. In the video mentioned above, I share in detail how I went about with this adjustment.
The Finished Garment
I love how these pants turned out. They fit perfectly well and the gorgeous fabric I used is the cherry on top. These won't be my last pair as I am already planning on another. Thank you for stopping by and keep safe. 🙂