I recently made the Love Notions La Bella Donna pattern for the very first time during a pattern testing process. I really loved the tunic version I made and I knew it was not going to be my last. I wrote a pattern review of the La Bella Donna sewing pattern then. Today, I am sharing with you how this pattern can be worn in both warm and cold seasons.
Here is the La Bella Donna Pattern review post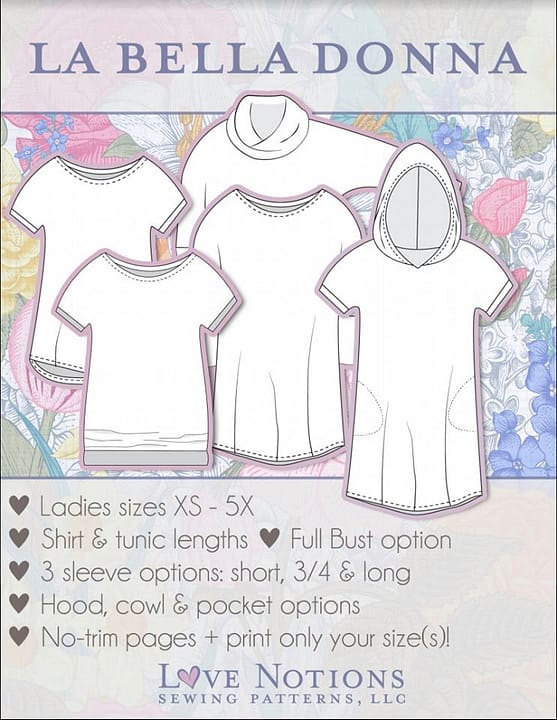 I have been a pattern tester with Love Notions for over two years and recently became an ambassador. This means that any purchases you make using the Love Notions patterns links I share here earns me a small commission which supports this website. This comes at no extra cost to you.
Here are more of my Love Notions sewing pattern reviews
The Fabrics
I Chose two different fabrics: a cotton jersey for the warm weather and the sweater knit for the cold or winter months. I realised that the fabric chosen for the La Bella Donna greatly contributes to the fit and shape of the final garment. I sewed up my first version in a viscose jersey which was a drapey fabric which gave a close fitted look.
I made my second version in a white cotton jersey for a classic Look however it came out more boxy than the first. This has a lot to do with the cotton jersey being less drapey compared to Viscose jersey. It also gave it a loose fit which I was tempted to take in but I decided to leave it at that. The loose fit pairs well with tight jeans.
My third version is a tunic version with a cowl neck and long-sleeves. I sewed it up out of two different sweater knit fabric with different shades of grey. I had no intention of a colour-blocked one however it turned out better than I had envisioned. I was not sure of the fibre content of both of the fabrics because I have had them in my stash for a while. The dark grey fabric was scratchy which I suspected to have some wool content whereas the lighter grey one was soft to the touch. That is why I opted to use the soft one for the cowl and the sleeves because i intend towearit with a top underneath.
The Making
I made all my three versions in size XS. This pattern is such a quick make which can be made up in one sitting. I sewed most of it up using my overlocker/serger and used my coverstitch machine for the hems.
The Finished Garment
I love my new La Bella Donna tops and it is about to become a wardrobe stable of mine. The pattern can be worn throughout of the year depending on the features and fabric chosen.
Thank you for stopping by. xx